Number of Servings: Varies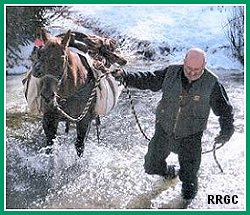 Ingredients:
5 pounds venison trimmings
1 pound pork shoulder or butt
1/2 pound pork fat cubed
1 1/2 tablespoons salt
2 teaspoon pepper
1 1/2 teaspoons sugar
6 cloves garlic crushed or pressed
1/4 teaspoons cayenne pepper
1 teaspoon Italian seasoning
1 cup water
1 or 2 teaspoon fennel seed
1 teaspoon crushed hot peppers
1 teaspoon parsley dried
Directions:
Grind game meat, pork, and fat together. Mix spices in blender or container with lid. Add water to spices and blend or shake. Let spices sit for a few minutes to mingle flavors. Pour spices over meat and knead with hands until thoroughly mixed. Cover meat and refrigerate 12 to 24 hours for spices to penetrate meat. If the sausage will not be used in a couple days, bag and wrap into individual packages (about 3/4 pound packages) and freeze.
Notes & Variations:
Can use 1 ½ pounds of pork butt and not use pork fat.
Other spices that can be used include Anise (1 to 2 TB), Crushed Coriander Seed (1 to 2 TB), Sage (1/4 tsp), Oregano (1/4 tsp), and Thyme (1/4 tsp). Italian Seasoning mix contains most of these and can be increased in quantity for stronger sage flavor.
Caution: The sausage must be cooked before serving.
Contributor: Mike Estes, RRGC