Number Served: 4
Ingredients: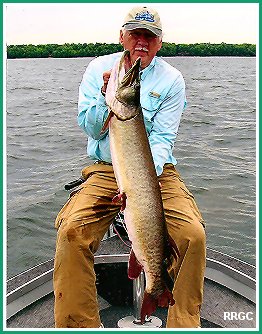 6 (8oz) musky fillet
2 medium onions sliced thin
2 1/2 cups mayonnaise
1/4 cup Dijon mustard
1 1/2 cups dry bread crumbs
1/2 cup grated parmesan cheese
2 tablespoons sherry, white wine and lemon juice
1 tablespoon olive oil
1 tablespoon dill weed
Minced garlic, dill weed, salt and lemon pepper to taste
Directions:
Sauté onions and minced garlic in olive oil until translucent.
Remove from heat and drain excess liquids.
Spread sautéed onions on the bottom of an 8x14x2 inch casserole dish and sprinkle with sherry, white wine and lemon juice.
Lightly season onions with dill seed, salt and lemon pepper.
Mix mayonnaise, Dijon mustard and dill weed.
Dip musky fillets into mayonnaise mixture, coating them on both sides and lay them on top of the onions.
Season lightly with salt and lemon pepper.
Mix the bread crumbs with Parmesan cheese and sprinkle over the top of the fillets.
Bake uncovered in a 325 degree F oven for 10 to 15 minutes or until the musky flakes and crumbs are lightly browned.
Notes & Variations:
This recipe works well with many other white flesh fish such as bass, walleyes, and halibut.
A fine pinot Grigio or Sauvignon Blanc pairs well with this musky recipe.
Contributor: Bob Kolowith, RRGC
Anecdotes
The musky or muskellunge is a highly prized trophy fish and has become, essentially, a catch and release fishery. The rules for a "catchable" musky vary from state to state and can vary from lake to lake. The "catchable" size limit in the State of Washington is currently 50 inches or greater. Check your fishing regulations carefully before harvesting a musky. The musky pictured here was caught in Wisconsin. While this trophy was "catchable" size, it was released to be caught again.