Number Served: 6-8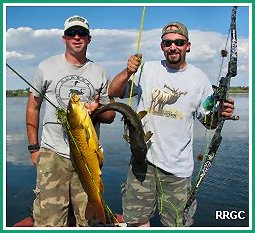 Ingredients:
3-4 pounds whole carp scaled without head
1/2 cup vinegar
salt
1 onion
Pepper and allspice
2 pounds small round potatoes - peeled
1 bundle of parsley
1/4 pound butter
1 cup whipped cream
sugar
3 tablespoons horseradish
Salt and pepper to taste
Directions:
Wash the carp inside but only rinse the outside so the skin is not damaged.
Place the fish, skin side up on a tray with an upside down tea cup in the cavity to hold it up a bit. Pour boiling vinegar over the skin.
In a large pot boil 2 quarts of salted water with onion slices, pepper and allspice.
Place the fish in the pot and simmer for about 30 minutes.
Cook potatoes in a little salt water about 20 minutes. Drain and sprinkle with finely chopped parsley.
Melt the butter on the potatoes and whip the cream till stiff and add in some sugar.
Stir in the horseradish. Salt and pepper to taste.
Arrange the carp on the platter with lemon wedges and cover the fish with the horseradish cream.
Notes & Variations:
Contributor: Mike Estes, RRGC
Anecdotes
In the late 1880's the U.S. Fish Commission imported German Carp and envisioned the carp would be raised in ponds, harvested and sold in markets. Carp has never become a food source as planned by the Commission but if caught during the right time of year, in a clean location and properly cooked, they can be excellent fare. The RRGClub received three carp recipes from a Northwest family that describes (in German) how carp can be prepared and served. The recipes were a little vague in places so some judgments were necessary. The Club extends special thanks to Bonnie for translating the recipes and suggesting some clarifications.