Number Served: 2-4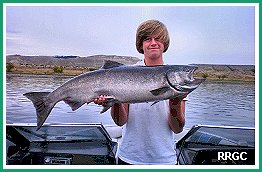 Ingredients:
1-2 pounds salmon fillet with skin
1 tablespoon lemon juice
Sprinkle of lemon pepper
Sprinkle parsley
2 tablespoons butter
Original C.J. Gourmet Barbecue Sauce
1 sliced white onion
Directions:
Place layer of sliced onions in foil boat; then add fillet (skin side down).
Season fillet with sprinkle of lemon pepper and parsley.
Melt butter, add lemon juice and pour over fillet.
Add wetted alder chips to chip tray.
Place foil boats in smoke vault and set at 275 degrees F.
Turn on gas and cook for about 40 minutes (fish should be flakey).
Brush on C.J.'s Barbecue Sauce and cook for aproximately ten more minutes.
Notes & Variations:
Smoke vaults are a new product for outdoor gas cooking and offer better temperature and moisture controls than previous products. This recipe will work well with any salmon; however, large King salmon should be steaked for the best results.
Contributor: Darren O'Leary