Number of Servings: 4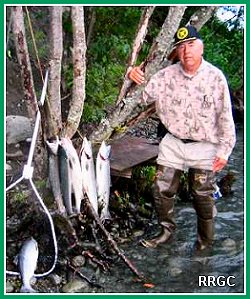 Ingredients:
2 pounds salmon fillets (no skin)
Butter
Cajun Creole Blackened Seasoning
Directions:
Cut salmon fillets into 1/4 inch strips.
Put butter in a large cast iron skillet and heat.
Sprinkle a liberal amount of Cajun Creole seasoning in skillet.
Place salmon strips in skillet and sprinkle on a liberal amount of seasoning.
Cook for 5 minutes then turn salmon strips and cook for 3 more minutes and serve.
Notes & Variations:
Contributor: Gaylord Pyle, RRGC