Ingredients: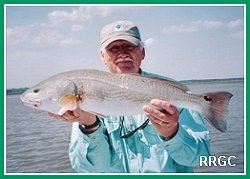 1/2 cup slivered almonds
1/2 lemon
1/4 cup butter
Directions:
Begin by browning slivered almonds on stovetop skillet in 1/4 cup butter. Stir almonds constantly and squeeze in lemon juice when browning begins. Lemon juice will accelerate browning. Remove skillet from heat and quickly remove browned almonds and butter to sauce pan. (This sauce is used in the Redfish Almodine recipe). Pour almonds and butter sauce over cooked fillets. Let fillets rest in warmer for 5 minutes before serving on warm dinner plates.
Notes & Variations:
This almondine sauce can be used with any white flesh fish such as halibut, walleye, perch, etc.
Contributor: Bob Kolowith, RRGC