Number of Servings: 4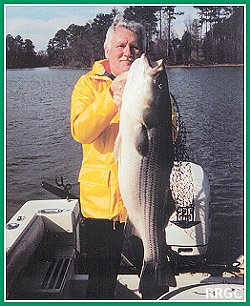 Ingredients:
2 pounds Striped bass fillets
1 tablespoon lemon juice
1/8 teaspoon paprika
1 tablespoon butter
1 tablespoon flour
salt and lemon pepper
1/2 cup milk
1/4 cup buttered bread crumbs
1 bunch fresh parsley
1 red bell pepper
Directions:
Cut fillets in serving pieces and place in greased shallow baking dish. Sprinkle with lemon juice, paprika, salt and pepper.
Melt butter in saucepan. Blend in flour and add dash of salt and pepper. Add milk then cook and stir until thick and bubbly.
Pour sauce over fillets and sprinkle with bread crumbs.
Bake in 350 degree F oven for 35 minutes.
Garnish with parsley and sliced red peppers.
Notes & Variations:
This baked fish fillet recipe also works well with other fish such as halibut, walleye, perch, crappie, etc.
Contributor: Bob Kolowith, RRGC
Anecdotes:
Striped bass are saltwater fish that spawn in fresh water and are native to most of the Atlantic coast states. "Stripers" are a favorite coastal sport fish from Massachusetts to North Carolina and these strong fighters have been caught weighing over 60 pounds.
Striped bass have also been introduced to many large reservoirs in the South. They have adopted well in some. Although not as large as their saltwater cousins, they have been caught weighing over 40 pounds in a few of these reservoirs. The Striper shown here was caught in Lake Murry near Columbia, South Carolina in late December when the big fish come into shallow water. She was caught on lightweight spinning tackle after a 40 minute battle and won Field & Stream freshwater "Striper Of The Year" in South Carolina.