Number of Servings: 4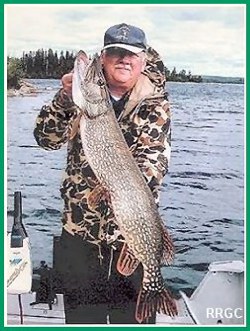 Ingredients:
4 pounds pike fillets cut into chunks approximately 2X4 inches
3 large potatoes (steaked)
4 ears sweet corn lightly oiled and wrapped in foil
1 quart vegetable oil
3 dozen saltine crackers rolled in large Ziploc bag
1/2 cup flour in large Ziploc bag
2 eggs
2 teaspoons of milk
1 small tub of butter
Catsup (optional)
Tartar sauce (optional)
Directions:
After a successful morning of pike fishing, begin by finding a safe place to build a fire for your shore lunch. Look for old fire pits on large flat granite slabs along the shore. Split the fishing party into two work parties. One party will ready the fire pit for your small camp grill and large cast iron pan (should be at least 15 inches by 3 inches deep). After the fire pit is properly sized, remove the pan and grill and begin setting the fire. Dry wood is preferred but charcoal can also be added.
The second work party should begin by filleting and chunking approximately 4 pounds of the morning catch. The chunks can then be breaded on a clean cutting board by first shaking the fish chunks in flour in the Ziplock bag. Next remove chunks and roll in small bowl of whipped eggs combined with milk. Remove chunks from bowl and shake in bag of cracker crumbs.
Allow time for fire to generate hot coals, while enjoying a "cold one" and swapping fish tales. When the coals are ready place the grill and pan on the fire pit and add the steaked potatoes. When golden brown remove potatoes and place in a covered serving bowl.
Now add lightly oiled sweet corn still in husks and wrapped in foil to edges of the grill.
Also add breaded fish to pan of hot oil. Cook fish until golden brown while turning sweet corn to prevent burning.
When fish and corn are ready, begin serving.
Try it if you have the chance. You will find it's hard to beat a pike shore lunch on a remote lake in the far north.
Notes & Variations:
Seasoning of the potatoes, corn and fish is best left to the individual. While the shore lunch is a rich tradition in the far north, it can be enjoyed elsewhere. Also the northern pike can be replaced by walleye, bass, panfish or even southern catfish. Also the number of fish batter recipes is endless, the one described here is a favorite one because of its simplicity.
An important caution is to be sure open fires are permitted and be sure that the camp fire is completely drowned before you leave the lunch site. It's a good idea to re-visit the camp site a few hours later and verify the fire pit is cold.
Contributor: Bob Kolowith, RRGC
Anecdotes:
Shore lunches are a rich tradition in northern pike and walleye country. Native American have been doing it for centuries. I was first introduced to the shore lunch experience on a remote wilderness pike lake in northern Saskatchewan while on a father/son trip with an Native American guide many years ago . It remains one of my fondest memories. If you get the chance, don't pass it up.
Good fishing!