Number of Servings: 2-4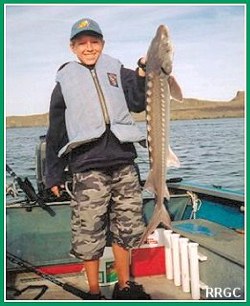 Ingredients:
1-2 pound fresh sturgeon fillet
garlic salt (Pinch)
2 tablespoon butter.
3-4 ounces honey
Lemon pepper.
Directions:
Set oven to 350 degrees and place fillet on greased (buttered) foil in baking pan.
Microwave butter, garlic salt, honey until hot then stir. Pour over fish and then sprinkle lemon pepper over top to taste!
Cook for 30 minutes until flakes. After 15 minutes baste with juices.
Serve with wild rice and asparagus.
Notes & Variations:
Catch Sturgeon! Keep cool! Remove skin from fish then fillet into two fillets. With knife remove the brown colored meat on the outside of the fillet. Cut into 1-2 pound sections and wash with cold water.
Contributor: Richard Sharp, RRGC