Number of Servings: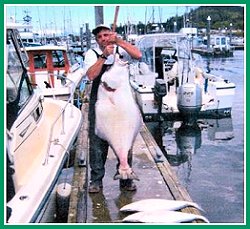 Large Group
Ingredients:
5 pounds bacon (diced)
14-18 pounds halibut cubed (3/4 - 1 inch)
1 gallon water
1/2 gallon cream
1 tablespoon black pepper
7-8 pounds onions (finely chopped)
15-18 pounds raw potatoes (diced)
4 gallons milk
10 tablespoons salt
Cooking oil
Directions:
Saute bacon and onions in hot oil, add fish and cook until just done. Remove fish and reserve.
Combine water, bacon, onion, potatoes, salt and pepper. Simmer until potatoes are done. Add milk, cream and reserved fish. Place over double boiler and heat.
Notes & Variations:
Contributor: Jerry Zeitler, RRGC