Number of Servings - 2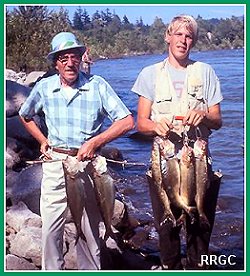 Ingredients:
1 shad (3-4 lbs)
1 lemon
1 cup wine of your choice
4-6 bacon strips
salt (to taste)
Directions:
Clean and split the shad and place the two halves skin side down in a shallow glass baking dish.
Squeeze juice from the lemon and add wine.
Lightly salt the fish, then brush the lemon juice/wine mixture onto the meat.
Place 2-3 bacon strips lengthwise on each side of fish.
Slowly pour the remaining wine mixture over the fish and allow it to marinate in the refrigerator for at least 1 hour.
Place dish about 2 inches below oven broiler for about 15 minutes, but check meat at 10 minutes for doneness. Do not turn fish.
Contributor: Washington Department of Fish and Wildlife