Number of Servings - 4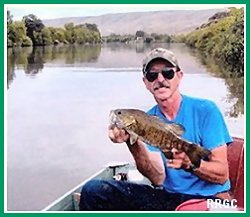 Ingredients:
1 cup Beer Batter mix (McCormick)
2/3 cup beer (any brand)
4 medium bass fillets
Salt
Pepper
Lemon pepper
Peanut oil or Miracle oil
Directions:
Open the beer and leave it in the refrigerator overnight to go flat.
Mix beer batter mix and beer until smooth and let it sit in refrigerator.
Wash fillets thoroughly removing any bones and fat that were missed.
Pat fillets dry with paper towels and cut 2 inch wide strips from back to belly.
Season fillets with salt, pepper and lemon pepper.
Put about 2 inches of Peanut oil in a deep fryer and heat to 325 degrees F.
Dip strips in beer batter with long tongs and put in hot oil carefully.
Let cook for 1 to 2 minutes depending on the thickness of fillets.
Remove the cooked strips from the oil and put them into a brown paper bag with several layers of paper towels in the bottom.
Close the bag to keep them warm while the rest are cooked.
Serve up with you favorite tartar sauce and lemon wedges.
Notes & Variation:
The amount of peanut oil added to the deep fryer will depend on the size of the unit. Add enough oil so the fish fillets can be submerged in the oil. If you have a tall unit add sufficient oil so you don't get burned when placing the fish in the oil.
It is best to cook the fish outside - the smell of deep fried fish stays in the house for quite awhile.
The recipes is also excellent with crappie, perch, and walleyes.
Contributor: Jack Pickard, RRGC